Few feelings are better than that of having no expectations about something and being absolutely blown away by it. Seeing
Forbeard Fantasy
's latest show felt just like that.
A combination of live acting, animation, film and projection,
The Colour of Nonsense
is a hilarious and extremely creative multi-media theatre experience that no one who's the least bit interested in any sort of storytelling process should miss. (apparently,
The Guardian thinks so too
)
The plot revolves around so called conceptual artist Splash and his struggle to put together an ambitious exhibition called Nonsense. Along with his two loyal sidekicks, Line and Scuro, Splash does everything he can to try and maintain his "cutting edge" status without having to actually produce any work. Sound pretty normal so far? Ok, then add to that a talking parrot, a pet fly, the north pole, a jelly-fish eating society,
Edward Lear's "Dong"
and tulip mania, and you might start to change your mind.
Adding to the fantastic acting (think cartoonish expressions and body language, Dr Seuss-like rhymes and dead on comic timing), a series of creative multi-media additions leaves the audience in awe throughout the whole 80 minutes. One can't help but be amazed by the extremely simple and clever use of animation, film and projection as supports to the live act.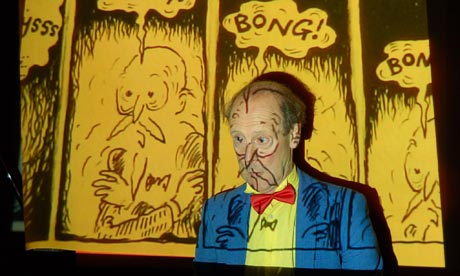 Apart from playing their respective roles, the three actors also control all the videos and projections and sounds in the play (plus they make their own sound effects at times). Cherry on top: the score includes artists such as Bernard Hermann and Frank Zappa.
The stage design is done in a way that makes the most out of the not so big theatre. Hidden pull out screens extend the scenery in such an interesting and effective way that we are able to forget the fact that the whole thing takes place in just one room. The projectors are very well hidden by stage props making it easy to completely ignore them and indulge in the fantasy.
I haven't been able to see many plays since I got to London, but if the few ones I do see give me the same joy as this one did, I'll gladly make quality over quantity a rule.